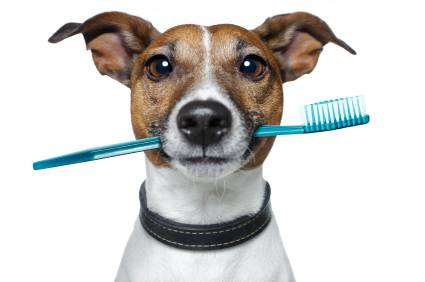 Veterinary Supervised Non Anesthetic Ultrasonic Teeth Cleaning for Dogs & Cats
This anesthesia-free method has proven effective for thousands of patients, and it offers you a gentle way to protect the teeth and gums of your pet on a regular basis without the risks of anesthesia.
Our Veterinary supervised team uses a combination of Ultrasonic scalers and hand scalers to effectively remove prolonged tarter build up as well as clean effectively below and above the gum line. Lastly, each procedure finishes with a dental polish.
Benefits Of Teeth Cleaning Without Anesthesia Are:
It is less expensive.

It takes less time. Approximately 10-15 minutes depending on the status of the mouth

It avoids the risks of anesthetic drugs.

It avoids the need for pre-anesthetic blood work.

Very effective in keeping your pet in good oral health
Bad breath, one of the first signs of dental disease.

Red, swollen or recessed gums

Loose or missing teeth

Excessive plaque and tartar buildup

Drooling (sometimes with blood)

Yellow/brown plaque on the teeth or near the gum line

Difficulty eating
Non Anesthetic Cleanings are recommended EVERY 6 months

Call: (310) 652-6321 to schedule an appointment or book below!
Teeth cleaning clinic the 2nd Wednesday of every month.